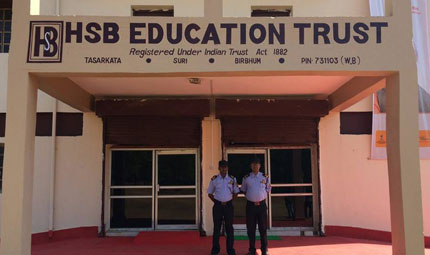 HSB TRUST, a non Governmental organization having its own registered office at HSB House,(Near Red Cross), and Rabindrapally, Suri, Birbhum, 731101 started its activities with a number of qualified persons and some enthusiastic young men and women. The society has the capacity to provide efficient workers to render complete dedication to make the Watershed development project a successful one. Now, it is conducting training programs under different livelihood sectors to develop the socio-economic condition of the people mainly of the SHG members & organizing educational, cultural & social activities effectively.
To make arrangement for free education for the purpose of bringing home the curriculum for the underdeveloped students in education.
To adopt special projects for rendering legal aids to the people at large of the distressed and weak sections particularly the women folk of such sections.
To arrange for various social development activities such as road and ways, drinking water and lights, and to arranges for giving necessary vaccinations etc.
To make arrangement for conveniences and opportunities of the inhabitants and to face the problems concerning the interests of the locality and to bring above the solutions.
To strive for social developments extensions of the education, eradication of illiteracy and to extend fraternity among all and to setup clean tidy and nice environment as well as to extend awareness about health and environment.
To impart education and to give encouragement regarding different cultivation by scientific means to the local farmers in accordance with necessary and opportunity.
To adopt measures for giving experimental knowledge in relation to agriculture, and to establish and conduct the field of agricultural exhibition.
To render assistance for establishing various craftsmanship and cottage industries in order to elevate the women folk to make them self-dependant in the matter of deriving education and in the field of earning. Specially to promote skill-based performance of minority women on 'Kantha Stitch' craft in the rural areas.
To render assistance to the people by giving awareness and facilitating them to promote fundamental right and various Govt. facilities adopted by the Govt.
To promote Human Resources Development by providing the consciousness of proper utilization of available man power among the communities.
To adopt measures for eradication of superstitions by promoting scientific and experimental arguments and conception among people.
To arrange various environmental development programme by providing awareness on ecological degradation and eco-friendly agriculture.
To import awareness for creating permanent wealth for the up-gradation of human beings with the usage of skilled and unskilled man power.
To elaborate the idealism of humanity for creating a peaceful environment in the villages and towns.